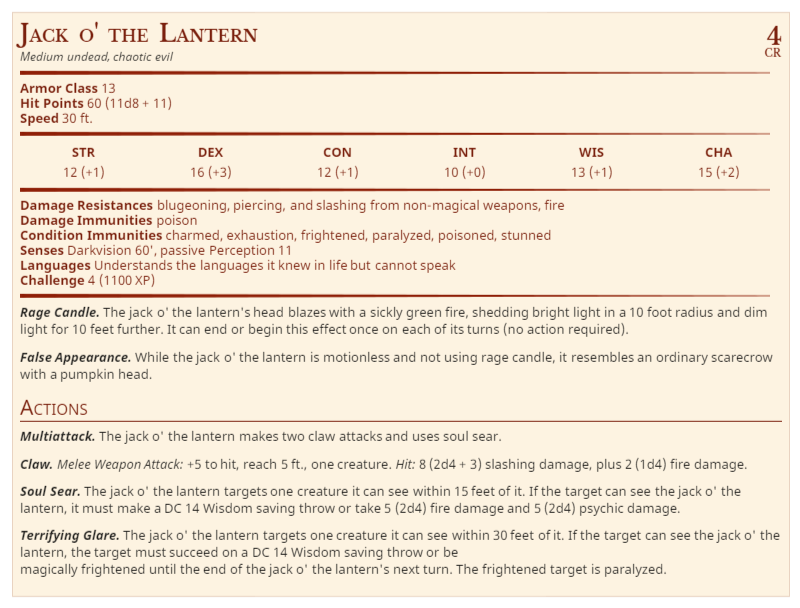 Resembling a scarecrow with a burning jack o' lantern for its head, a jack o' the lantern differs from the more familiar animated scarecrow in being a spontaneously created undead being rather than a deliberately created construct.
The story goes that when a sufficiently hateful or angry and murderously evil person dies in a pumpkin field, the murderer's soul, seeking purchase on the material plane either to avoid an unkind fate in the lower planes or to seek revenge against its killer, can either move into one of the pumpkins or seep into the soil and from there enter a gourd.
A pumpkin so inhabited by a soul will grow tall and round and slightly misshapen in a way that vaguely suggests a humanoid skull. Anyone who looks closely at or touches the pumpkin will receive a suggestion (as per the spell; save DC 13) to carve a face into it and put it on a scarecrow body. The first night that the light of the full moon shines on such a scarecrow, a fire will ignite inside its pumpkin skull and it will be animated into a grim mockery of life.
The anger and hatred that the jack o' the lantern's spirit feels fuels its existence. While a jack o' the lantern is a free-willed creature with all the knowledge its soul possessed in life, it is incapable of tender emotions, calm rationality, or mercy. Any better qualities the soul may have had are burned away in the fires of rage.