Internet, I'm sorry to have to do this, but could you help my family out?
A few weeks ago, I tweeted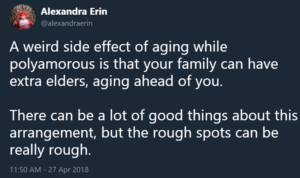 There are three of us, so three sets of parents. The math there is pretty simple.
This bittersweet sentiment hit home yesterday. My own parents came to see us this week here in Maryland, for the first and very possibly the last time. It was a lovely visit. They got to see a bit of my life and some of my favorite sights, take in some of the culture and history, and spend quality time with the family I've found here. They also got to meet Sarah's parents, a meeting that we were afraid might not happen due to different health issues on both sides.
The day they left to return home, Jack got a phone call from his sister.
His own mother had died.
We visited her in California for what was the first (for me) and ultimately the last time back in September of 2017, otherwise I would never have met her. We knew her health was not good, but it was still a shock that it happened so quickly.
We don't have a date for the viewing and funeral yet, but we know they're going to be in California and probably sometime next week. Getting the three of us across the country and back is going to cost around $2,000, maybe a little more and maybe a little less, and that's assuming we can get a date and book quickly. The immediate local family has a lot going on, so it will be best if we can get a hotel room and rent a car rather than imposing if possible, and that's going to add to the cost.
And unfortunately, this is happening at a busy and expensive time of year for us. May is the beginning of our convention and travel season. If it was as easy as skipping a con for something this important, we'd do it, but the biggest expenses (airfare and in one case, a pre-paid hotel room for a discount) are non-refundable. Conventions are also work for me, and we have commitments at WisCon in particular that are going to drop a cost and hardship on someone else if we were to abandon them.
I feel awkward doing this when I already crowdfund my living and I've been rattling the cup extra to try to get convention travel funds for August, but I don't really see a choice but to ask for your help specifically in getting the three of us to California so Jack can be with his family and we can be with him, and we can say goodbye to his mother. We've got some aid from our families, and an anonymous benefactor is generously offering to match the first $500 in contributions, and some of my patrons who already knew have kicked in, so we're not quite starting from zero, but we're not there yet.
We don't even know what "there" is yet, because we don't know what days we need plane tickets for, we can't buy them to lock in the price, we don't know if it's going to require changing our existing travel plans, etc. We'll have a better idea how much money we'll need as we get closer and learn more, but we're kind of a bind in that if we waited to start raising money it'd probably be too late.
So whatever you want to and are able to give, please do so.
We thought about a fundraiser page, but PayPal is the best choice as most payments clear immediately, and we might have to move very quickly here. You can use this link or my PayPal Me (http://www.paypal.me/alexandraerin), or if you prefer to do it manually (as it seems some people do), send a PayPal payment to blueauthor (at) the domain of this website. If PayPal doesn't work for you, I do have a cash.me page.
Again, the first $500 will be matched.
I can't offer any fun incentives or perks here. We're scrambling to get everything ready for our existing travels in May. We will take anything that anyone can gives and cares to give as a treasured gift, and honor it accordingly. In the event that we get more money than we end up using, I think the responsible thing to do is keep it in our travel funds so we're better prepared for another unexpected eventuality.
Because the math is, there are certainly going to be more of those in our future.
Thank you.
UPDATE (5/11/2018)
So, today the dates for the rosary and funeral were set. Thanks to the generosity of so many people (seriously, thank you!), we were able to book flights now while there were still some good ones available at prices that were, if not exactly dirt cheap, then at least reasonable. I've been pretty hyperfocused on this particular problem, which is bad because there wasn't actually anything to do. Lot of the cheapest hotel options weren't available, either. The last big thing left is a rental car, and then just whatever we spend on food while we're there.
Each part of this has been a bit more expensive than I'd hoped/expected, so I'm leaving the links above and will continue to circulate it on Twitter periodically, but I think we're at a point where if the support dried up we'd be able to pull this off. We're definitely going to be there now, at least.
So, thank you again.